If you want to add your settings to a GPO, open the Group Policy Management and edit your current / create a new GPO object.
Now you have to choose if you want to create registry entries for user (user configuration) or computer (computer configuration). Afterwards choose [ Settings -> Windows Settings -> Registry ]. We decided to create two sub folders, one for locked pref and one for default pref, as shown here: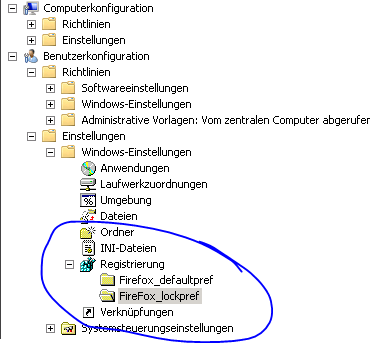 Next step: Create a new registry element at the right side. This could look like this:
How about an ADM/ADMX file?
– If you find an ADMX file that fits your need, use it, otherwise you can create one from scratch, to manage your settings.
– It's not flexible enough, because every plugin has its own settings. That the reason why I don't submit an ADMX file.